A driver for a distributed slave system.
The DistributedSystem is an abstract class represents a slave system in Distributed Processing System, connected with this master system. This DistributedSystem takes full charge of network communication with the remote, distributed slave system has connected.
This DistributedSystem has a performance index that indicates how much the slave system is fast. The performance index is referenced and revaluated whenever those methods are called:
Note that, this DistributedSystem class derived from the ExternalSystem class. Thus, this DistributedSystem can also have children ExternalSystemRole objects exclusively. However, the children roles objects are different with the DistributedProcess. The domestic roles are belonged to only a specific DistributedSystem object. Otherwise, the DistributedProcess objects are belonged to a DistributedSystemArray object. Furthermore, the relationship between this DistributedSystem and DistributedProcess classes are M: N Associative.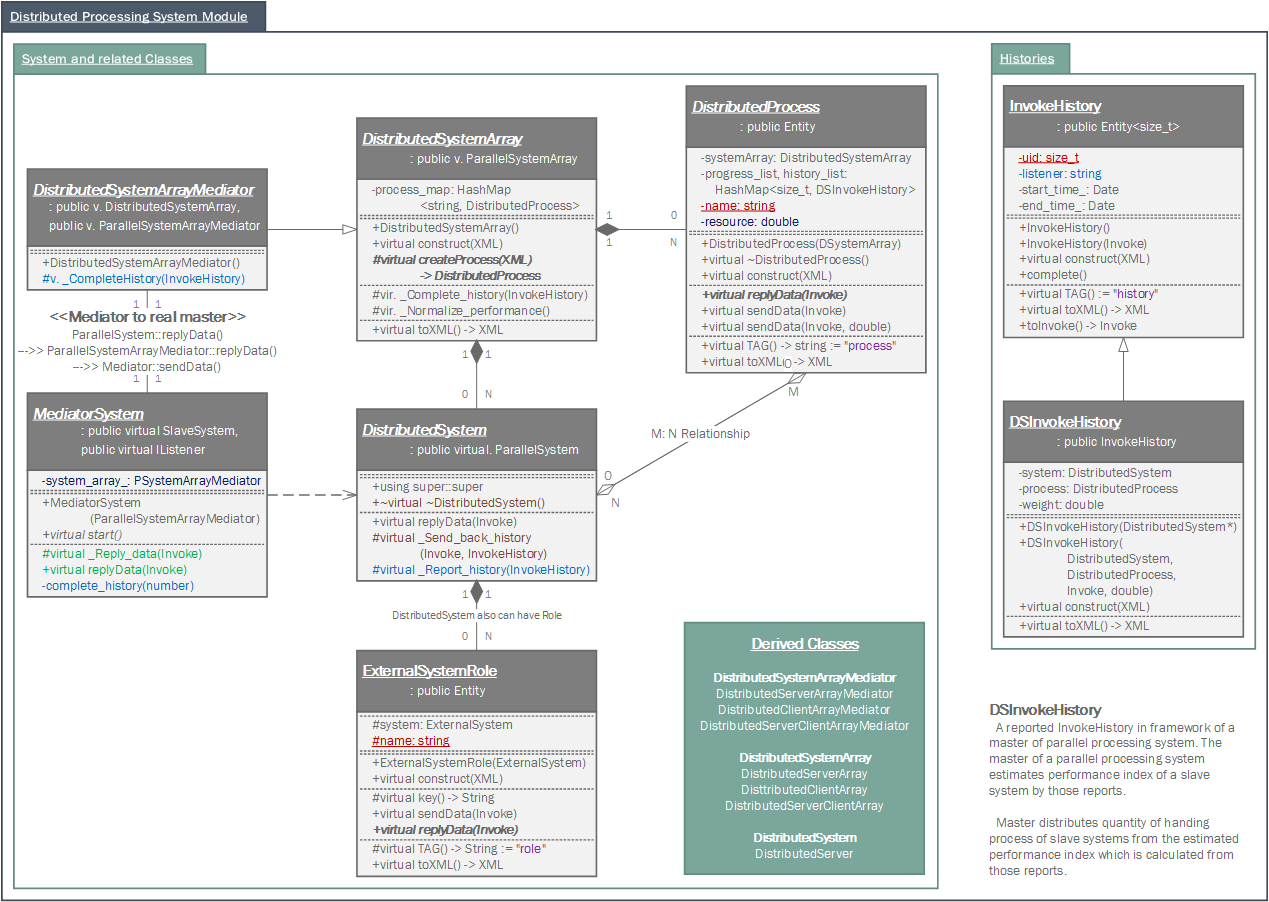 Templates - Distributed System
Author

Jeongho Nam http://samchon.org
Definition at line 51 of file DistributedSystem.hpp.
inline

override

protected

virtual
Factory method creating a child object.
In distributed module, the process class DistributedProcess is not belonged to a specific DistributedSystem object. It only belongs to a DistributedSystemArray object and has a M: N Associative Relationship between this DistributedSystem class.
By that reason, it's the normal case that the DistributedSystem object does not have any children ExternalSystemRole object. Thus, default createChild returns null.
However, if you want a DistributedSystem to have its own domestic ExternalSystemRole objects without reference to the DistributedProcess objects, it is possible. Creates and returns the domestic ExternalSystemRole object.
Returns

A newly created ExternalSystemRole object or null.
Implements samchon::protocol::EntityGroup< Container, T, Key >.
Definition at line 97 of file DistributedSystem.hpp.
References samchon::templates::slave::InvokeHistory::computeElapsedTime().